14 Stretches To Counteract The Effects Of Sitting, From A Physical Therapist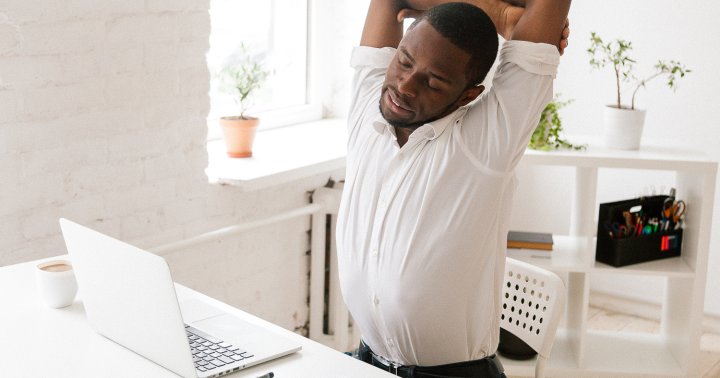 It's hard to believe something as innocuous as sitting could be dangerous. But as it turns out, it can be. With many people working desks jobs or attending school online, the amount of time spent sitting can really add up.
Aiming to have a less sedentary lifestyle overall is important, but for those days where you are sitting for longer hours, some stretches can be helpful. As a physical therapist, here's what I tell my patients about the importance of standing, along with some stretches I often recommend to improve range of motion, relieve tightness, and prevent muscle loss.
Why is sitting dangerous?
The U.S. Department of Health and Human Services gathered data from current studies to update its Physical Activity Guidelines for Americans—and a couple findings were a little worrisome.
The first is a little less surprising: In the last decade or so, the number of Americans who meet the recommended aerobic exercise guideline (150 to 300 minutes per week) hasn't increased much. Over the span of eight years, the percentage has only risen from 63.2% to 65.2%.