'Barely walking a mile left me breathless - so I tried this diet and lost 108 lbs.'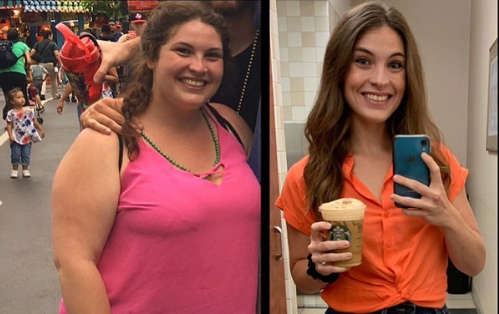 My name is Rachel Sharp. I am 26 years old and live in Lees Summit, Missouri. I am the mortgage operations assistant at a local Credit Union. I finally found a weight-loss strategy that works for me and dropped over 100 pounds in a year.
© Rachel Sharp Rachel Sharp weighed over 200 pounds and was bulled. She eventually researched intermittent fasting and created an alternate-day method for herself.
I had been overweight ever since I was a little girl. I was badly bullied for it all through school. My weight made me shy and prevented me from making friends. I lacked confidence and self-esteem.
After graduating high school, I tried multiple methods to lose weight. I counted calories, I worked out, and at one point I was even on a prescription weight-loss pill from my doctor. It was frustrating and sank me deep into depression. I was also in an abusive relationship from the ages of 18 to 21. After that relationship ended badly, I felt even more lost than ever, and the weight seemed to pile on even more. Before I knew it, I was at my heaviest: 236 pounds.