What Dietitians Think of the McDonald's McRib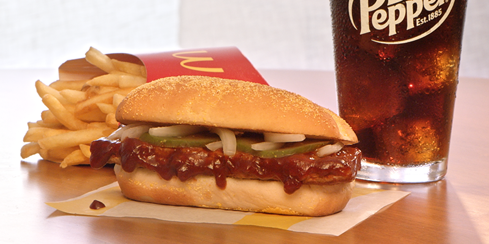 Few fast food sandwiches have a rabid fandom like the McRib. Some people wait all year for McDonald's to roll it out, and then completely freak out once it's available.
Well, McDonald's recently announced that the McRib is in its restaurants again, starting Monday. The McRib will be available for a limited time, according to a press release from McDonald's. It was last available in November, so naturally, fans are beyond excited for its return.
But we have to ask: What exactly is in a McRib, and how does it stack up on the nutrition front? Here, dietitians weigh in on the fan-favorite menu item.
At the heart of the McRib is the McRib Pork Patty, which is made of pork, water, salt, dextrose, and rosemary extract, according to McDonald's. That's topped with McRib sauce (which is similar to barbecue sauce), pickles, and onions, nestled onto a hoagie roll.